StarMaker: Sing with 50M+ Music Lovers
7.5.6
Singing App – Bring Out Your Inner Singer
If you think you have a good voice or just want to sing your favorite songs with other music lovers then this is the right singing app for you. StarMaker: Sing with 50M+ Music Lovers is a nice app that lets you bring out the singer in you and sing covers for your favorite songs. It allows you to express your singing talents and share them with the world. You can also collaborate with other music lovers and sing covers of your favorite songs with them. If you just want to have a fun time singing karaoke then you can do that too in this app with the Party feature. It enables you to join rooms of budding singers who will sing karaoke with you.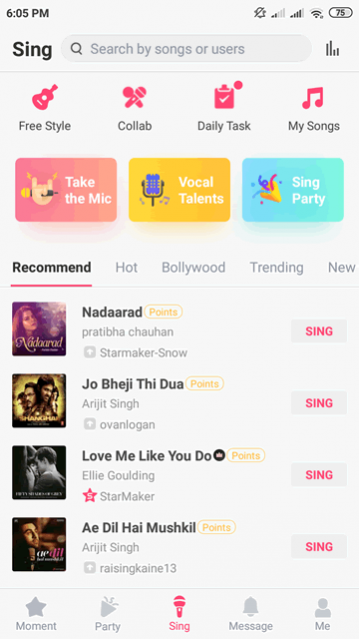 StarMaker: Sing with 50M+ Music Lovers has a user-friendly interface that meshes well with its elegant design and layout. These features make it easier for you to use this singing app. Upon the app's launch, you are asked to choose the language in which you want to sing your songs. There are multiple choices available which include regional languages as well. So, you can sing songs in your native language too. On the home screen, you will be offered a list of songs that you can choose to sing. You just have to click the title of the song and you will immediately start singing. The lyrics will appear on the screen while your video is shot via the camera of your phone. You can begin singing as soon as the music starts.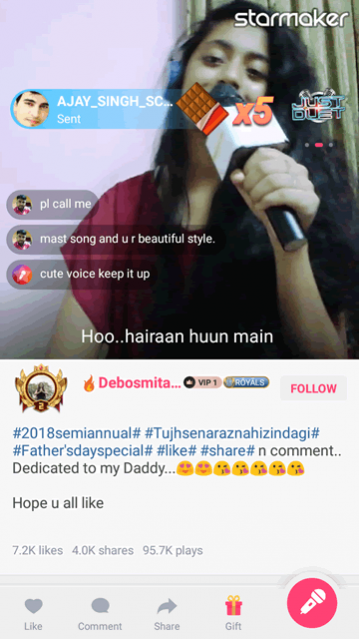 This singing app doesn't just let you sing the songs you like. It lets you shoot videos of yourself as you sing your favorite songs. You can then edit the song covers you have made using a variety of cool effects. These edited song covers can then be shared with the community. You can get points for uploading covers of the recommended songs. Other budding singers in the community can also share their covers. You can listen to these covers, comment on their videos, and like them if you love their voice or singing skills. StarMaker also provides you the chance to collaborate with other music lovers and make song covers with them. These music collaborations can also be edited and shared with the community.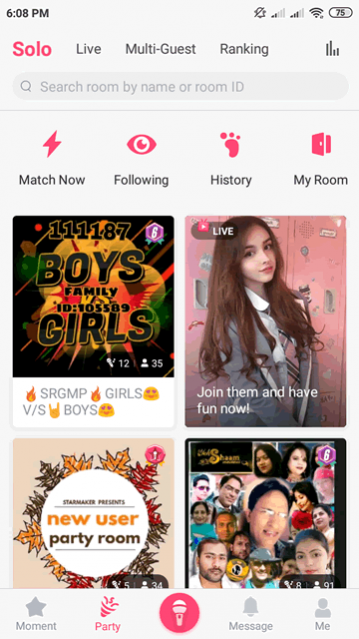 StarMaker: Sing with 50M+ Music Lovers has a social appeal as well. It gives you the opportunity to sing karaoke with other aspiring singers. There is a Party feature provided in this singing app for this purpose. In the Party section of the app, you will find various rooms. These rooms are full of budding singers who all want to have a good time singing their favorite songs with other people. You can join them and have fun singing with a room full of strangers. These rooms are an excellent means for you to meet new people and make new friends.
Features:
User-friendly interface
Elegant design and layout
Sing songs in your native language
Choose songs that you like
Sing covers of songs in your voice
Edit your songs before sharing them
Watch song covers made by others
Collaborate with other budding singers
Like and comment on other people's song covers
Join a room and sing with other people
Complete daily tasks to earn points
Use points for sending gifts to other people
Conclusion:
StarMaker: Sing with 50M+ Music Lovers is an app that is marketed towards people who love to sing. It allows you to sing covers of songs you like and also enables you to participate in group singing with other music lovers from all over the world. It is a singing app worth having on your phone especially if you are passionate about singing.
---
Add a review
Tell us your experience with
StarMaker: Sing with 50M+ Music Lovers
7.5.6
RELATED PROGRAMS
Our Recommendations
---
---
---
---